Bayard-Condict Building
New York, NY

This designated landmark, 12-story building was designed by Louis Sullivan in 1897 and is the only Sullivan building ever built in New York City. The goal of the restoration project was to preserve as much of Sullivan's original terra-cotta façade as possible. This required disassembling all cracked terra-cotta units on the building—some 1,300 of the 7,000 pieces—repairing them and then reinstalling the restored material. Pieces damaged beyond repair were replicated, carefully mimicking the original work; however, only 30 new pieces were required. Column capitals at the ground-floor level had long disappeared due to unsympathetic renovations to the storefronts executed in the 1960s. Fortunately, one original capital had survived in the basement of the Brooklyn Museum, and this was replicated. In addition, replicas were reviewed at the upstate New York manufacturing plant for quality control. All work was performed while the building was fully occupied, with minimal disruption to the occupants' activities.
100 Broadway
New York, NY

The American Surety Company Building at 100 Broadway is an individual New York City designated landmark located in the heart of the financial district. Designed by Bruce Price and completed in 1896, with a 1922 addition by Herman Lee Meader, it was an influential early skyscraper, amongst the first New York City buildings to a have steel-framed curtain wall construction. The two Renaissance-style street façades on Broadway and Pine Street are designed as a column with a tripartite division of base, shaft and capital, a model that was widely replicated by subsequent commercial buildings. The granite-clad structure has striking ornamental detailing throughout, including a two-story colonnade at street level with Ionic columns on Broadway and Doric columns on Pine Street; eight one-story high, raised-relief statues at the third floor; two additional pairs at the 14th–15th floor levels on the Broadway façade; and a projecting cornice at the 20th floor.

WASA/Studio A has been working at 100 Broadway since 1998, performing Local Laws 10/80 and 11/98 and FISP façade inspections and filing critical examination reports. We have designed façade repairs and cleaning, re-roofing and sidewalk/waterproofing projects. In addition, APS under WASA/Studio A designed the replacement of all of the building's windows with New York City Landmarks Preservation Commission-approved double-glazed units.
1515 Broadway
New York, NY

1515 Broadway is a 57-story office building with a seven-story limestone-clad extension on the south, east and west elevations that houses the Astor Theatre and ground-floor retail space. The tower has distinctive projecting vertical limestone fins located near each building corner, accentuating the glazed curtain-wall system. At the top of the tower, the fins are connected together by a two-story-high limestone-clad mechanical equipment space. WASA/Studio A was first called in to determine the cause of curtain wall glazing failures, where 5-foot by 10-foot windows were falling from the building in high- wind conditions. We discovered an inadequacy in the structural attachment of the double-bay corner windows and developed a simple repair to rectify the condition. APS under WASA/Studio A has worked on this building for the past 20 years performing Local Law 11/98 critical examinations, as well as repairs to both the limestone and glazed curtain-wall façade elements.
Tower 49
New York, NY

APS under WASA/Studio A has worked on many phases of roofing and façade projects over the years at this historic New York City structure within a landmark district. The duplex penthouse in the building provided the primary residence to Nelson Rockefeller for many years. The 14-story steel-framed structure is composed primarily of limestone with an ornamental terra- cotta cornice.

During a recent restoration of the two street façades, APS prepared documents and administered construction for the project, which included extensive installation of dutchmen at previously inappropriately patched locations; replacement of deteriorated ornamental limestone elements with new limestone to match the original; dismantling and replacing the support structure; repairing and reinstalling the terra-cotta cornice; repointing of open mortar joints and installing lead weathercaps at all horizontal surfaces; repairing, repainting and recaulking of all the wood windows; and complete building cleaning using a combination of water washing and the JOS low-pressure water micro- abrasives system. During previous phases, we designed and administered the replacement of all roofing systems, including the large penthouse deck, as well as repairing and re-stuccoing the penthouse structure.
Macy's Herald Square
New York, NY

Over a 25-year period, Architectural Preservation Studio performed façade evaluations, restoration and repairs to the exterior of the world's largest department store. Covering most of an entire city block, the store is listed on the National Register for Historic Places and is actually several combined structures: the Palladian-style Broadway building of 1901–02, designed by De Lemos & Cordes, and enlivened by brick, terra cotta, stone and cast iron facades; and successive brick and stone Art Deco additions designed by Robert D. Kohn in 1924, 1928 and 1931.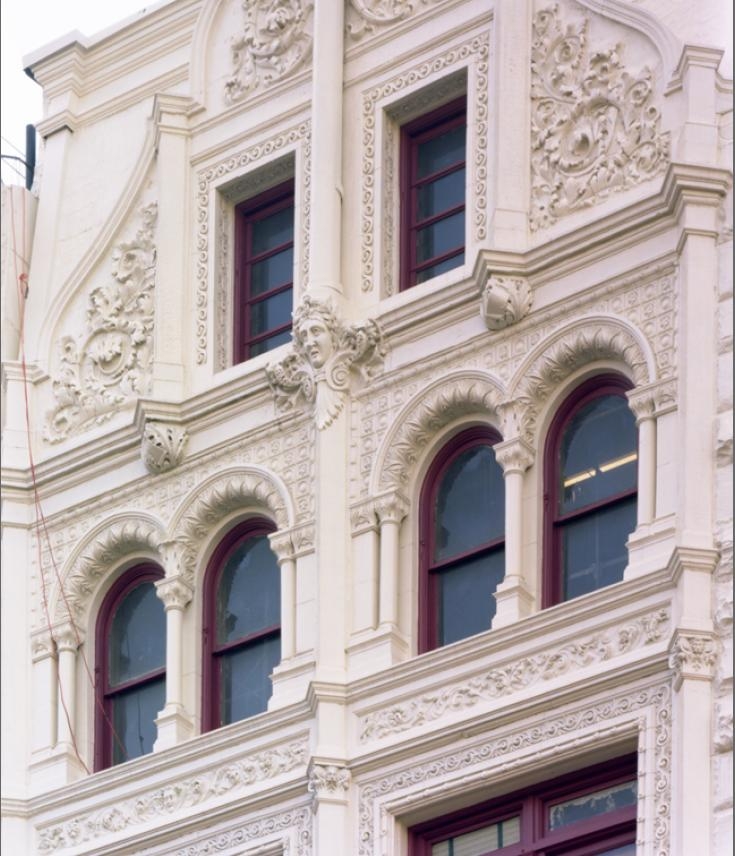 08: Commercial